Meet Dr. Callum Peever
Dr. Callum Peever is a second-generation chiropractor, with both his father and uncle also practicing chiropractic in Ontario.
He has always lived an active lifestyle, leading to quite a few injuries over the years. These injuries helped him gain further insight into the human body as well as utmost respect for the body's ability to heal.
Dr. Peever graduated from Canadian Memorial Chiropractic College (CMCC) in 2010. Since then, he has become Advanced Proficiency trained in the Activator Method®.
His personal experiences, education, and unique skill set allow him to offer individualized chiropractic care to patients of all ages.
EXPLORE OUR SERVICES »

A Deep Passion
Dr. Peever was drawn to chiropractic care at an early age. He not only grew up watching his father and uncle practice, but he grew up a patient himself. He received regular adjustments, which he feels better equipped him to live a long, healthy, active life. Years of practice later, Dr. Peever still passionately offers similar care to others.
Dr. Peever thoroughly enjoys getting to know each of his patients, connecting with them, and working with them to help them feel better, move better, and achieve their goals.
Outside the Practice
When he is not working at Caledonia Chiropractic, Dr. Peever spends time with his wife, a teacher, and their two young children. Even with their busy schedules, they prioritize the outdoors. You can find them outside, taking advantage of Mother Nature during all four seasons. Together, they like to bike, skate, ski, and more.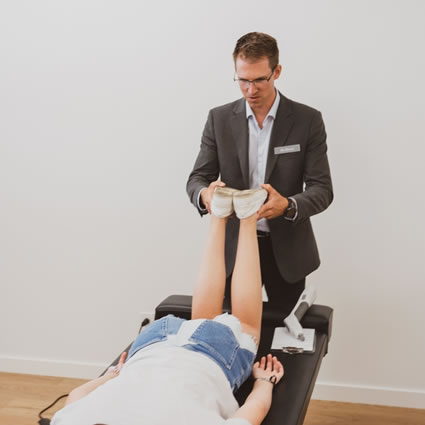 Skilled Practitioner
In addition to being Advanced Proficiency trained in the Activator Method®, Dr. Peever is the regional director of the Toronto seminars for the Activator Method®. He helps organize annual seminars to educate other chiropractors in this specific technique.
Dr. Peever is also an active member of the College of Chiropractors of Ontario, the Ontario Chiropractic Association, the Canadian Chiropractic Association, the Alliance for Chiropractic, and the Halton-Peel Chiropractic Society.
One of his most rewarding accomplishments was co-founding the chiropractic clinic at the Hamilton Urban Core Community Health Centre.
Contact Us
We want to get you feeling better. Contact us to learn more about our low-force approach to chiropractic care.
---
Dr. Callum Peever | (905) 765-4025