About Caledonia Chiropractic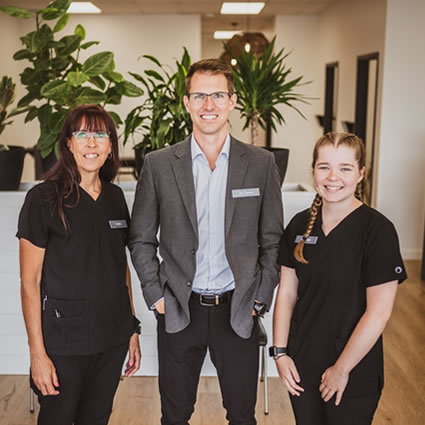 Caledonia Chiropractic was previously owned by Jim Aldridge, a well-known chiropractor who practiced in Caledonia for more than 30 years. In 2021, Dr. Aldridge retired and Dr. Peever took over the practice. Since then, Dr. Peever has been devoted to providing his community with skilled, compassionate care.
Our practice is here for you, no matter your needs. We welcome new patients of all ages and lifestyles with open arms. We offer short-term relief care and long-term maintenance care alike. Learn more about us and what we have to offer your health.
Your Personalized Experience
We value each of our patients as individuals. Because no two patients are the same, we take our time assessing and addressing your needs. It is important to us to understand you, your concerns, and what you are hoping to get out of chiropractic care before we begin your care plan.
Your plan of care will be yours alone. We will combine your health history, your goals, and location and severity of your aches and pains to come up with a sustainable course of action. Dr. Peever specializes in the Activator Method® of adjusting. This technique is light and can be adapted per patient. Frequency and duration of care vary depending on the person.
Our Hope for Healthier Living
When you come in to see us, our main concern is helping you generate momentum toward whatever health goal you are trying to accomplish. Whether you would like to be able to go for a walk every morning or complete a triathlon – our practice is ready and willing to support you on your way.
Our hope is to use chiropractic care to encourage wellness and help our community live happier, healthier lives.
Schedule Your Appointment
Your body deserves the best. Dr. Peever and his exceptional staff are here to help you thrive. We have the expertise and passion to give you care that is right for you. Contact us for more information.
---
About Caledonia Chiropractic | (905) 765-4025